For years, scientists believed all sponges were filter feeders that trapped and fed on bacteria from water they pump through their bodies. But in 1995, researchers discovered that certain species of sponge enjoy meatier meals.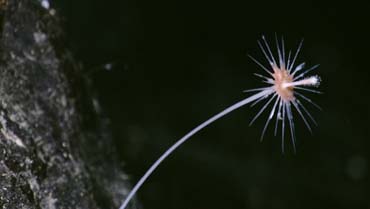 Carnivorous sponges measure only a centimeter or two and are shaped like trees or daisies, with stalk-like bodies and filaments fanning out from the top. These filaments are key to the sponge's success as a predator. Each is lined with hook-like structures that are perfectly shaped for latching and holding onto the appendages of small crustaceans.
These tiny flesh-eaters are "sit and wait" predators that rest on the ocean bottom, ready for crustaceans to bump into their filaments. Once a creature is snagged, it quickly gets entangled and the filaments contract. Next, elastic cells from the sponge's outer layer engulf the victim. Sponge cells flood toward the prey to break down the body and absorb the digestible elements. In the lab, carnivorous sponges have been seen "spitting out" nondigestible parts of prey, such as the hard outer skeleton. Finishing one meal can take up to 10 days!
Scientists think this family of sponges developed their meat-eating lifestyle as an adaptation to their barren ocean bottom environment. Because they remain still while waiting for prey to get caught in their filaments, the sponges spend very little energy between feedings, helping them survive in a place where food is scarce. Several species of carnivorous sponge are now known, and scientists expect there are even more lurking in the vast deep ocean.